Coronavirus: Weston hospital staff 'worried and confused' 2020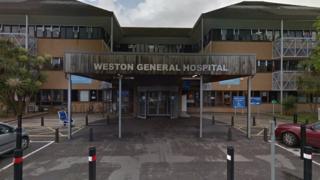 Coronavirus: The temporary closure of Weston General Hospital has left staff "worried and confused", a trade union has said.
On Monday, the hospital stopped accepting new patients due to a high number of coronavirus cases.
Unison representative Liz French said: "They're confused, they're worried but I have to say they are pulling together to do their best for their patients and all their colleagues."
The hospital said new patients would be accepted "as soon as possible".
"It's not just the patients that have been diagnosed with Covid-19 but also lots of the staff because they've done lots of testing over the past week or so," Ms French added.
"They were unhappy but they were getting on with their jobs."
'Biggest problem'
She said staff felt there was a lack of communication from bosses.
"Although the senior management team were meeting every couple of days to discuss the way forward but that wasn't getting down to the staff.
"That was the biggest problem and that's why they were so worried," she said.
Dr William Oldfield, medical director at the trust, said there was a "high number" of patients with coronavirus in the hospital, adding that there was also "an emerging picture of asymptomatic staff" testing positive for the virus.
"Any members of staff who have tested positive have self-isolated in line with national guidance," he said.
'Testing all staff'
"We are also in the process of testing all staff in clinical areas at the hospital who may have had some patient contact."
The University Hospitals Bristol and Weston NHS Foundation Trust, which runs the hospital, has not commented regarding the union's concerns about the communication of information with staff.
Dr Oldfield said arrangements were in place for emergency referrals to go to other healthcare providers and that new patients would "continue to have access to treatment and care in other appropriate healthcare settings".
"We are continuing to take the necessary steps with the aim of reopening the A&E department and accepting new patients as soon as possible," he added.