Coronavirus: Cross-border 'cluster' of virus cases investigated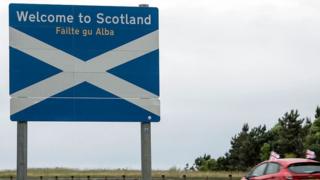 A cross-border "cluster" of coronavirus cases has been identified across south west Scotland and north west England.
NHS Dumfries and Galloway confirmed there had been nine new cases of Covid-19 in the Gretna and Annan areas since Monday.
It said everyone was self-isolating and work was taking place to identify any recent contacts.
Scotland's national clinical director, Prof Jason Leitch, described it as a "complex but small cluster".
He stressed that the last positive cases in the Dumfries and Galloway health board area had come on 22 June.
"This is a complex but small cluster captured in different testing areas; in a hospital testing site, in a mobile testing unit and in a drive-through testing unit," he added.
He said the number of cases was in "single figures" and stretched across the Scotland-England border.
"That adds a complexity because some of the testing will have been done in England and some of the testing will have been done in Scotland," he said.
A cross-border incident management team has been put together with Health Protection Scotland and Public Health England.
---
'Worrying development'
John Pagani, who runs the Café Royal in Annan, only recently reopened his business after it was shut for seven weeks. He has strict hygiene and social distancing measures in place, such as temperature checks for staff.
He said: "It is a very worrying development.
"I have noticed an increase in the number of customers from England over the last week or so and customers say Carlisle is pretty much business as usual now.
"We obviously don't know where the outbreak started, and the last thing I want to say to any customer is you're not welcome, but it shows you how complicated this is.
"All we can do is stick to our own plan for social distancing and hygiene and hope they can trace all the cases."
---
Prof Leitch said contact tracing had "already begun".
"Incidents like this reinforce the importance of our test and protect model quickly identifying potential clusters and identifying contacts," he said.
First Minister Nicola Sturgeon said that the public should "take some assurance" from the news that clusters of coronavirus outbreaks had been detected.
She said she understood the anxiety caused by the virus but the systems to deal with the situation were "kicking in" when they needed to.
NHS Dumfries and Galloway said it was monitoring the situation "very closely" and would provide updates as the situation developed.
It said a mobile testing unit would be made available for anyone experiencing symptoms
A health board statement said the region had been "very fortunate" to have a relatively small number of cases in recent weeks.
Valerie White, interim director of public health, said: "These new cases are a clear reminder of the challenges we face in learning to live with Covid-19.
"As we move out of lockdown we are very likely to see areas of localised outbreak.
"Our test and protect system is designed to identify cases and their contacts and provide advice and support to individuals in relation to self isolating for the required period.
"That is why everyone must continue to stay alert, get a test if they have symptoms, and self isolate."