Storm Francis: Elderly residents in Newcastle evacuated from homes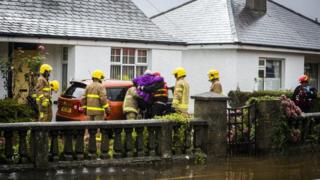 Elderly residents have been evacuated from their homes in Newcastle, County Down, due to flooding caused by Storm Francis.
Newry Mourne and Down District Council has launched an emergency plan to deal with the flooding.
A yellow weather warning brought in at midnight is due to last until 06:00 BST on Wednesday bringing ongoing rain and strong winds.
Downpours and flooding have caused disruption across Northern Ireland.
Roads and transport lines have closed as a result.
In Newcastle, residents are being evacuated from the Shimna Road and the Bryansford Road after the Shimna River burst its banks.
'Disaster zone'
SDLP MLA Colin McGrath said up to 300 homes in the town had been affected.
He said it was "like a disaster zone".
"A number of streets are submerged under about 3ft (0.91m) or 4ft (1.2m( of water, there are cars that have had to be abandoned and there are people that have had to be rescued from their home," he said.
Mr McGrath said shelter was available at the Newcastle Centre for those who had to abandon their homes.
Local Sinn Féin councillor Willie Clarke said an emergency plan had been implemented by the council.
He said they were preparing for high tide in the area, which was due at 16:00 BST, and that the situation could be made worse by further rainfall.
"A lot of people have already been taken to other people's houses, elderly people, in their 80s or 90s," he said.
He said the priority was trying to get sandbags to people whose homes had not already been flooded.
Emergency services are at the scene and the Northern Ireland Fire and Rescue Service (NIFRS) said it had rescued a number of people.
Its specialist rescue team was in attendance.
The NIFRS also has a flood response team and fire crews responding to an incident in Maghera, County Londonderry, where people are trapped in their homes.
Analysis
By BBC News NI weather forecaster Cecilia Daly
Looking at rainfall totals since midnight, it is fair to say that 40mm to 50mm has fallen in and around the Sperrins and the Antrim hills.
Orlock Head on the Ards Peninsula recorded a wind gust of 60mph.
It is still raining, and is expected through the remainder of the day on Tuesday and into the night.
The rain however will turn more showery and less persistent.
Winds will ease temporarily in some areas this afternoon as the centre of Storm Francis moves eastwards across the middle of the island of Ireland, but will strengthen towards the north coast and change direction.
Northerly winds will develop as the low pressure system passes by and gusts of 50mph are possible on exposed parts of the north coast later on Tuesday and through the evening.
Winds will generally decrease overnight and into Wednesday morning.
The current Met Office yellow rainfall warning in Northern Ireland is valid until 06:00 BST on Wednesday and a status Orange rainfall warning for Connacht, Cavan, Monaghan and Donegal issued by Met Éireann is valid until 18:00 local time.
'It could get worse'
In Newry, the Fairy Glen river has burst its banks and caused some flooding.
Independent councillor for the area Mark Gibbons said there were safety concerns about people coming to the site, and he had asked the council for the entrance to the area to be blocked off.
"You will have people who will want to get a nosy at it, people might want to get a picture for social media, so they could put themselves in danger, and potentially fall into it," he said.
"A lot of locals are saying it is the highest they have ever seen it."
He said the situation seemed to be "calming down slightly", but that there were concerns it could get worse.
"We will have to keep an eye on things, but hopefully that won't happen," he added.
Met Office warning
Storm Francis was named by the UK Met Office on Monday – it is the seventh named storm of the season and the second storm in a week to affect the UK and Ireland.
There has been between 2.5cm and 5cm of rainfall in places, with a highest highest hourly figure for rain of 11.6mm.
Disruption across NI
Commuters across Northern Ireland have been advised to check travel advice.
In County Tyrone, drivers are advised to avoid Brewery Lane, Donaghmore, after an electricity line came down.
The PSNI said drivers should find an alternative route if possible.
The Drum Road in Cookstown, close to the Teebane crossroads, is also impassable due to flooding.
In County Antrim, there has been disruption to the railway service, including the closure of the line between the Mossley West and Antrim stations.
In Belfast, the Blacks Road Link near Dunmurry Lane has been closed due to a tree blocking the Old Golf Course Road and there is flooding on the Milltown Road opposite the Belvoir Estate.
Situation elsewhere
In the Republic, warnings for both strong winds and heavy rain have been issued by Met Éireann.
There may be rainfall totals of 20-40 mm widely and 60-90 mm in some hilly areas during the warning.
Strong winds are also forecast for Northern Ireland with wind gusts of 50mph at times, especially over exposed east-facing coasts and hills.