Coronavirus in Wales: More dental services from 1 July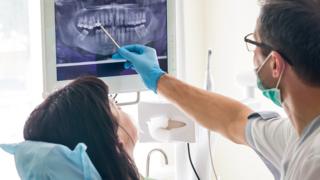 More dental care will be available for patients from 1 July, the chief executive of NHS Wales has confirmed.
Andrew Goodall said people who have experienced problems during lockdown will be offered help first.
"A wide range of care will be available at most local dental practices for patients who urgently need them," he said.
But the restoration of services needed to be gradual, he said at the daily Welsh Government press briefing.
Routine activity had stopped during the pandemic because many dental procedures use drills and other tools that create spray, leading to a higher risk of transmission of the virus.
"The restoration of dental services needs to be gradual to continue to protect dental practice staff and patients," Dr Goodall said.
It is not expected that routine dentistry such as fillings will be available until 2021, however.
The Welsh Government has faced calls to reopen surgeries from dentists themselves, who warned of an impending health "disaster".
Dr Goodall said the plan was to restart services in three phases, with the first beginning in July.
"The group of people who have experienced problems during lockdown will be offered assessment and care first," he said.
"We will progress based on urgency and patient need until the restoration of routine check-ups in the final phase."
Further phases will be "about restoring activities in different ways", Mr Goodall said, adding he hoped routine assessments could be restored.
Despite the pandemic, Dr Goodall said dentists had been open when necessary for urgent care, with 11,500 people seen and 140,000 consultations done remotely.
Meanwhile Dr Goodall reiterated that a "cautious approach" will be needed to easing any lockdown restrictions.
The chief executive responded to a question as to whether so-called "social bubbles", introduced in England, would be part of the next lockdown review.
Dr Goodall said: "We'll be approaching the next phase of lockdown review through next week in particular, and the first minister alongside the cabinet will be reviewing any opportunities to see what the next steps are for lockdown restrictions".
The next lockdown announcement in Wales is expected on 19 July.