Coronavirus: Doctors call for face mask in public rule in Wales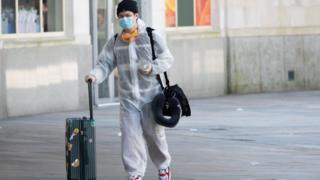 Face masks should be worn in public areas where people cannot socially distance to help prevent the spread of coronavirus, a doctors' union has said.
Wales' first minister had said there was only a "marginal public health case" for facemasks to stop Covid-19.
Now the British Medical Association (BMA) wants the Welsh Government to "change their position immediately to lessen the risk of the public spreading the virus".
It said masks "may help save lives".
Wales' chief medical officer had previously said on 12 May he would not be recommending the compulsory wearing of face coverings, advising they should remain a matter of personal choice.
Dr Frank Atherton had said masks might bring "a small benefit" to public health if everyone wore one, but there was a "bigger, proven benefit" if all health and social care staff wore clinical grade masks when caring.
'Considerable risk of infection'
BMA Cymru said it backed the wearing of face coverings by people in areas where they cannot socially distance and wants the Welsh Government to undertake an urgent rethink.
"There still remains a considerable risk of infection," said chairman Dr David Bailey.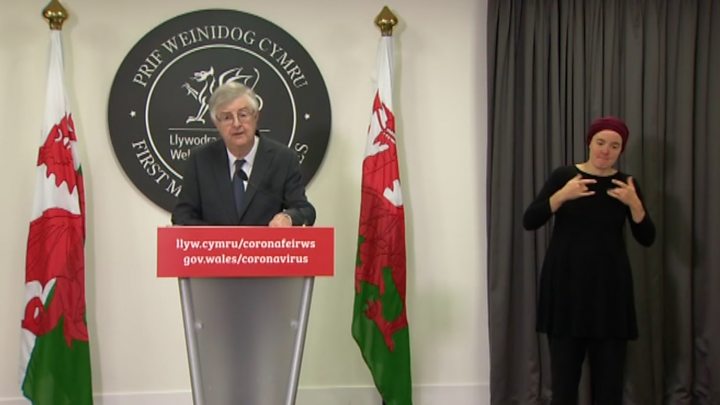 "Emerging evidence has shown that if mouths and noses are covered when people are in areas where they cannot socially distance, it may help in in controlling the spread of infection of Covid-19 and therefore save lives.
First Minister Mark Drakeford met Health Minister Vaughan Gething and the chief medical officer to discuss the matter earlier.
'Detailed questions to explore'
But he said there were a "whole series of detailed questions which we need to explore with our colleagues in England".
It comes as the body that represents train operators said passengers in Wales should follow England and wear face masks on public transport.
Wearing a mask on buses, trams, trains, coaches, aircraft and ferries will be compulsory in England from 15 June.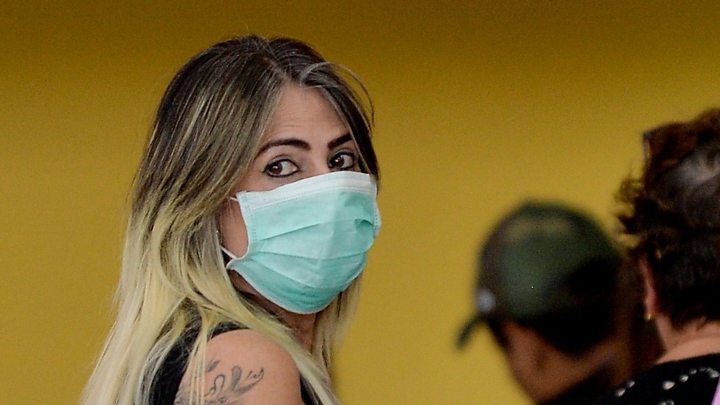 Transport for Wales (TfW) said its passengers could "consider" wearing a face mask to help avoid the spread of coronavirus.
Now, the Rail Delivery Group (RDG) wants every passenger in the UK to wear face coverings while on board.
"Wearing face coverings on trains will help to ensure that those who need to travel by rail can do so with confidence," said chief executive Paul Plummer.
"Greater use of face coverings will boost the other measures we are putting in place to keep people safe, like more thorough cleaning, improved information on potential crowding and one-way systems at busier stations."
Most of Wales' major railway lines – such as the London to Swansea mainline and south to north Wales route – cross the Wales and England border.
Passengers 'might need a sandwich'
Mr Drakeford said Welsh ministers had a "short number of days" to consider the position but had recognised the "changed context".
"If this is to be mandatory, what will be the position of people who have asthmatic conditions?" asked Mr Drakeford.
"If you're making long journeys by train, what happens to people who need to eat a sandwich and have a drink?
"We will continue conversations over the weekend and make a definitive statement in the first part of next week."
TfW – an arms-length organisation of Welsh Government – has said its customers could "consider" wearing face coverings in Wales, but wasd not mandatory.
National Express coaches said wearing a face covering, preferably a mask, in all UK coach stations and on all vehicles was a "condition of travel" when their reduced service resumes on 1 July.
The Welsh Government has been accused of "playing catch up over face masks".
"Wearing face masks has already been introduced across the border," said Welsh Conservatives health spokeswoman Angela Burns.
"We take the advice of doctors seriously and for that reason I welcome the suggestion that the general public, here in Wales, wear face masks in areas where socially distancing cannot be carried out.
"Admittedly, a risk remains despite wearing a facemask, but it is imperative that all avenues are explored to defeat Covid-19 once and for all."
How to make your own face mask
Don't have a bandana? Click here to find out how to make other face masks.
Scotland's First Minister Nicola Sturgeon said her government was considering whether to make it mandatory to wear face coverings in some situations. Scotland currently recommends wearing coverings in shops and on public transport.
In Northern Ireland, people have been told to consider wearing them in places where they cannot observe social distancing.
The World Health Organization (WHO) said only two groups of people should wear protective masks – those who are sick and showing symptoms and those who are caring for people with suspected coronavirus.
The WHO does not usually recommend them for the public because they can be contaminated by other people's coughs and sneezes or when putting them on or taking them off.